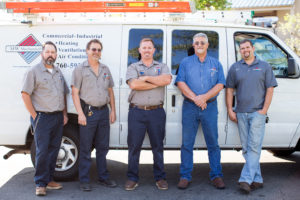 Serving the Greater San Diego Area and Temecula Valley, MW Mechanical Inc. provides industry ­leading solutions for all your commercial HVAC needs with an emphasis on quality and integrity while building lasting relationships with our customers. Our customers are our top priority and we service a wide array of commercial customers including government buildings, schools, offices, retail chains, healthcare facilities, medical office buildings, life science facilities, bio-med facilities, property managed buildings, and hotels.
MW Mechanical Inc. is a rapidly growing company dedicated to putting our customer's needs first by providing expert service, fast response times, and an unmatched level of attention to detail. At MW Mechanical Inc., the quality of our work is our trademark. We are committed to ensuring that our work lives up to our customer's expectations by offering professionally skilled technicians, competitive pricing, environmentally ­friendly solutions, and by staying on the cutting­ edge of commercial HVAC technology. From our preventative maintenance programs and retrofit projects to service and repairs. MW Mechanical Inc. is committed to getting the job done right and focuses on building customers for life. As a growing company dedicated to our workmanship and customer service, our team is what sets us apart from the competition.
MW Mechanical Inc. is available for your emergency service & repairs needs 24 hours a day, 7 days a week.
So please call 760-593-4800 x3 your emergency is our emergency.